Euro Truck Spares has a wide range of Scania drum parts available from top quality manufacturers. We offer new and used replacement parts for the Scania trucks. The new system combines the best of traditional drum brakes with innovative electronic control, delivering improved performance and greater consistency.
Drum brakes are one of the most important safety features when driving any vehicle. They prevent a vehicle from rolling away if there is an accident and are used to slow down or stop the vehicle quickly. Brake drums, brake slack adjusters, brake chambers, and brake shoes are the most crucial components of a drum brake system. A drum brake is a type of braking mechanism where friction is created between two rotating surfaces. This causes the brake shoe to rotate, preventing movement and stopping the wheel/vehicle.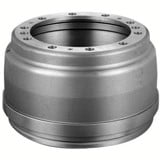 Scania's Drum Brakes can handle heavy loads and can withstand harsh conditions. With its reliable operation, these brakes can handle any type of traffic situation — from expressways to roundabouts. To perform effectively, the brake drum must have excellent dimensional stability at all times, especially as the inside of the drum becomes hot and the outside is chilly during braking. The Scania brake slack adjuster has a mechanism that adjusts the distance between the brake drum and brake shoes, ensuring a constant separation that is appropriate for Scania drum brake geometries. This ensures safe braking performance every time the truck is braked throughout its entire service life.
Scania brake drums provide better braking performance than cast iron brake drums. They offer superior heat dissipation properties. They are manufactured using high-quality materials and advanced manufacturing techniques. All Scania brake drum parts come complete with mounting kits and hardware and are suitable for any application where cast-iron brake drums were previously used.
Product Features:
Better braking power and increased consistency

Improved fade characteristics.

An easier driveability experience.

Electronic Brake Assist

Good for daily driving, hauling, pulling, loading, and unloading.

Heavy-duty, corrosion-resistant.
Best Scania Brake Drum Truck Parts for Sale
Euro Truck Spares can provide replacement brakes for any model of Scania truck in Australia. We offer quality parts for any application, including drum brakes, disk brakes, clutch disks, brake pads, brake linings, brake fluid, and much more. Call us today to find out why we're considered one of the best suppliers to buy parts online.
Contact us today!