Scania Truck Cooling Components
Cooling components comprise one of the most important systems in a vehicle. Without proper functioning, it would not be possible to operate properly. If any of these pieces of equipment does not perform properly, then the entire engine system fails. Euro Truck Spares has a wide range of coolant components available for Scania trucks. They include radiator caps, engine oil filters, water pumps, thermostat housing kits, coolant hoses, coolant tanks, and radiator fans.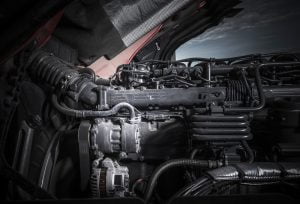 Truck cooling systems are complex machines designed to protect your vehicle against extreme temperatures. This includes keeping the engine operating within safe limits that prevent overheating. When working on trucks, there are several types of cooling components that should be identified and repaired promptly. These include coolers, condensers, evaporators, fans and blower motors, air filters, compressors, oil coolers, water pumps, radiators, belts and hoses, silencers, thermostats, fuel pumps, and vacuum pumps.
A key component of any cooling system is the radiator, ensuring that the correct amount of air flows into the engine compartment. In general, truck drivers must replace radiator hoses or fluid whenever they begin leaking or when the fluid level falls below the minimum acceptable amount. The same goes for the fan housing, pump shaft, and electrical connectors. They also must change the coolant when it becomes dirty, rusty or has low levels of antifreeze. It should be replaced to prevent engine failure.
 Product Features:
Durability and fit

High quality components ensure trouble-free operation for years.

Superior thermal conductivity to dissipate heat quickly in hot environments.

Engine cooling system hoses are made of steel, copper or brass material. The hose is available in different lengths and diameters depending upon the model of engine.

Supplied complete with radiator, pump and thermostat valves.

Engine coolant pumps and radiators are available in a variety of sizes.

Cooling fan filters
New & Used Cooling System Parts for Scania Trucks & Buses
Euro Truck Spares offers a complete line of replacement parts for Scania truck cooling systems. If you are looking for parts that are guaranteed to work then choose Euro Truck Spares products for your trucks! These coolant system components offer years of reliable service. Don't wait until your truck overheats on the highway – order these products now from Euro Truck Spares.
Contact us today!